Museum Experience Design: Pizza
Imagine you've been given the opportunity to create a museum, but not just any museum. Art. History. Science. These are all traditional subjects. Why make another curation like the rest when you can make something bold and new? My team and I were given the chance to design and prototype a museum on anything we wanted, so we chose to pursue what everyone wants in life: Pizza. Following a number of frameworks and methodologies, we were able to dream up unique, wholesome and somewhat sociological commentary driven concepts that would entice any fan of the slice.
Maggie Criqui
Hannah Jones
Rishabh Singh
Research & Writing
Ideation & Prototyping
Illustration & Video
Two Months
Experience Design
Spring 2016
JUST A FEW OF OUR FAVORITE THINGS
When your subject can be about anything, it is wise to make a list. Together, my team and I started this journey with a list of our own interests and then looked at each other's to mark what we loved and what we would rather not pursue. It turned out we had some similarities like candy and television. There were also new things we learned about each other. For instance, Maggie really loves office supplies and Rishabh has a big interest in natural disasters. We decided to pick three to start off with in terms of research: Natural Disasters, Drugs and Pizza. These would be the foundation of our next step.
The hunt for EXEMPLAR
Once we knew what kind of subject material we wanted to focus on, we were given a new task to conduct research on exemplars. Now, I don't know about anyone else, but finding museum examples on drugs proved to be more difficult than it was interesting. Apparently this is not a very popular topic in museums, so I had to get creative. I started my search just viewing amazing footage of museums around the world. My favorite example happened to be the Museum of Science and Technology of Islam but this was focused on the technologies being used for the exhibits.
I needed to see how drug usage was being displayed currently to the public, and I found two examples both in the Northeast. Maryland Science Center and the DEA Museum of New York both had interesting depictions of drugs. While one focused more so on the consequences of selling and using, the other primarily showed the science of reactions in the body and sociological effects of drug trade. Both held this subject in a negative light however.
wHAT I LEARNED FROM EXEMPLAR RESEARCH
Real, tangible artifacts garner more emotion and credibility than imagery alone.
Interactivity should not just be made for the sake of entertainment, but to actually teach the user something.
Museums can be made for education, but they can also be made for memories.
Is it ethical to portray hazardous activities in an attractive light? Who goes to a museum for a lecture or a "PSA"?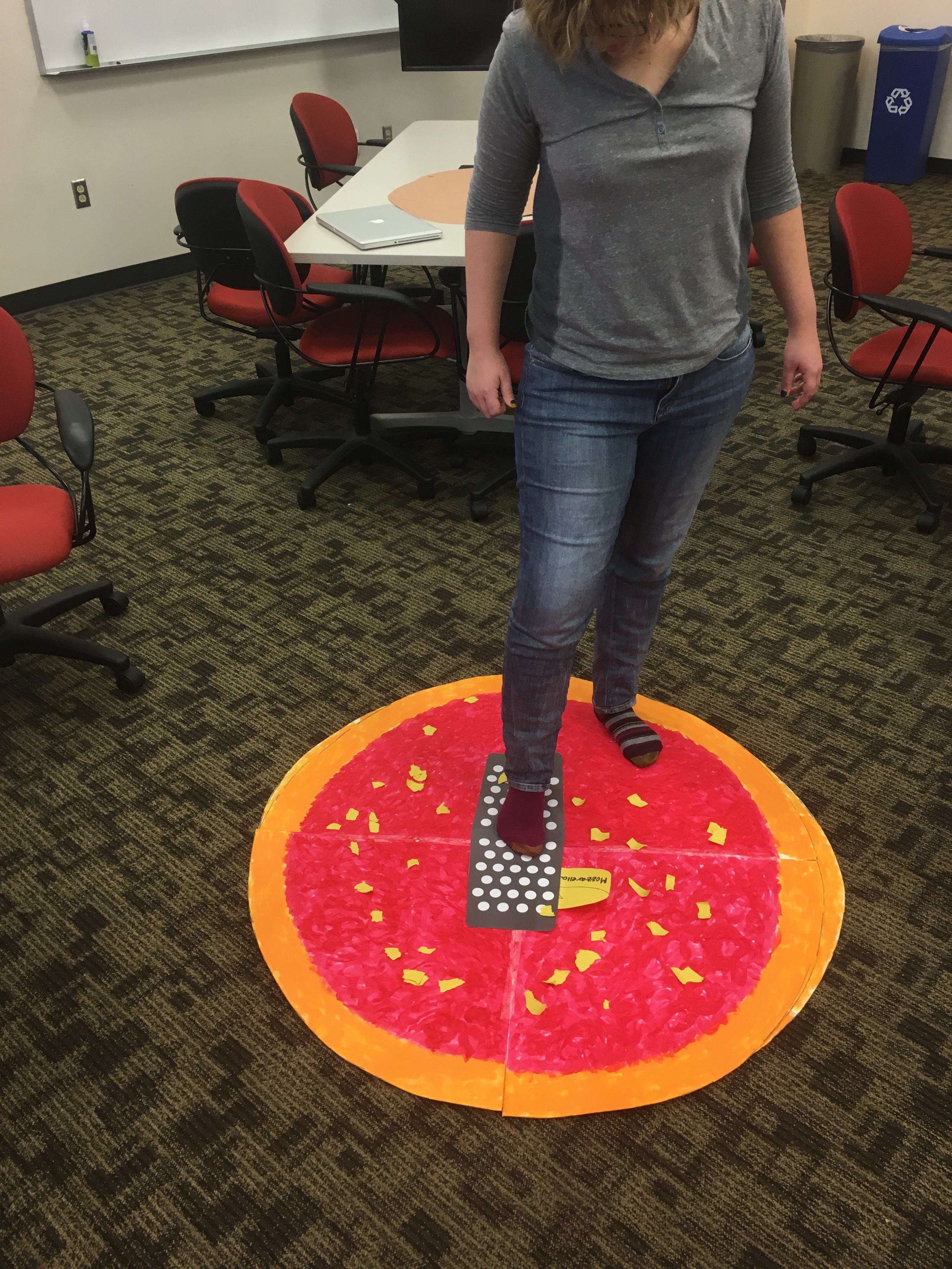 PIZZANESS: ONE WITH THE PIZZA
After evaluating the individual subjects, we all seemed very attracted to pursuing pizza further. And so it was decided that we would begin ideating design proposals for a museum centered around our favorite food. After sketching out several immersive experiences, we focused on one particular idea: An interactive floor screen for an individual to create a pizza through a series of gamification interactions.
After plotting out each stage of the experience, we got to work and constructed a life size model. The team created various ingredients for the different stages. I cut and combined each double sided circle and created the various stages of the blank space turning into pizza. I was also our first user! Here is how it works:
Select a slice based on the country you want your pizza coming from.
Select a type of dough.
Stomp on that dough until it covers the whole pan.
Select the type of sauce you want.
Stomp on the moving tomatoes until sauce appears.
Select a cheese.
Drag foot back and forth to grate the cheese.
Select your toppings.
Decorate pizza with them by stepping all over.
Confirm selections and have a real pizza made with your choices.
WRENCH in the Oven
It wouldn't be real design if we didn't get a curveball task to impede on the process. But then again, curveballs are the process. The wrench in our design came in the form of a Pastiche Scenario where we were each tasked with writing a short story involving one of our favorite characters experiencing our design. I chose my favorite all time character, Harley Quinn (accompanied by Poison Ivy) from DC Comic's Batman. What started as a rather slow and uninspired chore turned into a perhaps one of my favorite methods for analysis. I put my mind in Harley's while watching a few episodes of Batman to really get into her head. My scenario is full of jokes, crime and a lot of Harley's childish behavior. What also came out was a pretty useful critique of our current design - mostly that our interface was individualized instead of inviting to multiple users.
Wrench 2: Critical Design
Another curveball assignment was completely forgetting about the museum and using our subject as inspiration for critical design. Basically making users contemplate something going on in the world or their own behaviors for that matter in order strike action, criticism or awareness.
While some felt this was a distraction, our team felt this really helped us find out the source of what we are trying to accomplish with our museum design: Bring families together. For our critical design, we focused on what has distanced families in terms of technology. From there we ideated a pizza box that was critical of other technology in the room. It would detect phones, for instance, and require the exact number of them in order to unlock and allow people to eat. This idea made us contemplate American family values, modern methods of connectivity and if silence together was really such a bad thing. I helped film, then edited our video.
RETURN OF THE MUSEUM
After coming back from the "disruptions" to the design process of our museum, we as a team decided to further pursue bringing families together through interaction. This interaction however, could be working together or competing against one another. So we ditched the original idea and expanded! We wanted our exhibit to be educational, interactive and most importantly, fun. We wanted to incorporate play into each piece we developed, and we wanted users to walk away with memories of each other and not just what they learned. In fact, this museum turned more into an arcade! We had two weeks to put this together.
The first course of action was to figure out interactions for each part of the pizza. We kept the steps to building a pizza from our original idea, but turned each step into its own physical station to experience. Therefore, we had 5 prototypes to sketch and build: Dough, Sauce, Cheese, Toppings and Seasoning. Together, we came up with educational backgrounds for each experience while keeping it a game. Maggie even made a scorecard so families and couples could keep "points" when playing against each other on teams.
Crafting the prototypes took some time but I helped direct the art for the pieces in order to film for our final deliverable. We created a giant cheese grater, a slot machine, and "depth" dimples for the walls. Needless to say, cardboard and spray paint was a must. We decided to keep our original prototype for the sauce since it was already on point. After it was all done, we set everything up and filmed each step of each experience. Afterwards, I compiled all the footage into Final Cut Pro as well as my own illustrations on how the pieces would be viewed in an exhibit, and edited the video.