Emergency Response: Infrastructural Drift
With the growing dependance on technology today, we find ourselves at times lost without it. While this may be a slight grievance for every day citizens, firefighters have to deal with this from time to time. Whether a signal is lost or the whole city loses power, emergency responders must have backup plans in order to get to the scene (or several) ASAP. This project prompted my team and I to look into how Bloomington firefighters respond to an emergency call and improve upon the system used to prepare for, travel to and resolve a disaster within the constraints of the current equipment.
Secondary Research & Ideation
The moment that our team was put together, the design began. Having had a few projects under our belts, we were able to learn from our previous mistakes and begin right away with generating a multitude of ideas.
We made sure to check in and plan out our budgeted time accordingly by assigning an agenda for the hour at every meeting. We also took on a new activity - "Yes And" - saying yes to and adding to one another's ideas.
Aside from pure imagination, we each took on different research roles and used what we found from articles and journals to piece together an affinity diagram for a more calculated approach to the problem we needed to solve. It was clear that we needed to tap the source.
Primary research & insight analysis
After our initial interview as a class with David Wild - Associate Professor of Informatics and Computing, Director of Data Science Academic Programs and Director of Cheminformatics Program - we gained valuable insights into just what a firefighter might experience and the true constraints of the project at hand. We knew we needed to hear from an active firefighter as well, so we met with Fire Chief Mike, Fire Chief Easton and Captain Knapp of several Monroe County fire stations to interview. We learned:
There are limited funds for devices and instruments.
The ideal system needs to be interactive.
It should give the right information to the commander immediately.
The safety of the fire fighters on the ground is important.
The current system requires that one retrieves information from the system and communicates it with others.
They need to know the layout of the building with uncluttered real information.
we discovered our core:
"Provide only relevant information that can be glanced at in order to increase confidence when responding to an emergency."
usability testing & Iterations
Combining user-centered design and informative content, we sketched software that could be used by anyone! Our research brought us knowledge on what firefighters absolutely need to find for each and every call. From fire alarm panels to hidden gas meters, we plotted out a simple system to navigate each useful tool.
Myself and another teammate sought out a firefighter in order to conduct a usability test. It turned out to reveal many things we hadn't considered. This lead us to circle back and make iterations to our initial sketches in order to accommodate the new insights. From there we were ready to present.
Complete Design & Storyboard
To the left is our complete design in the form of a storyboard used to illustrate a real life scenario that firefighters might encounter and how our software will benefit them in an emergency situation. After presenting our team's design through the method of a 4 minute presentation followed by a critique by the audience, we received some feedback.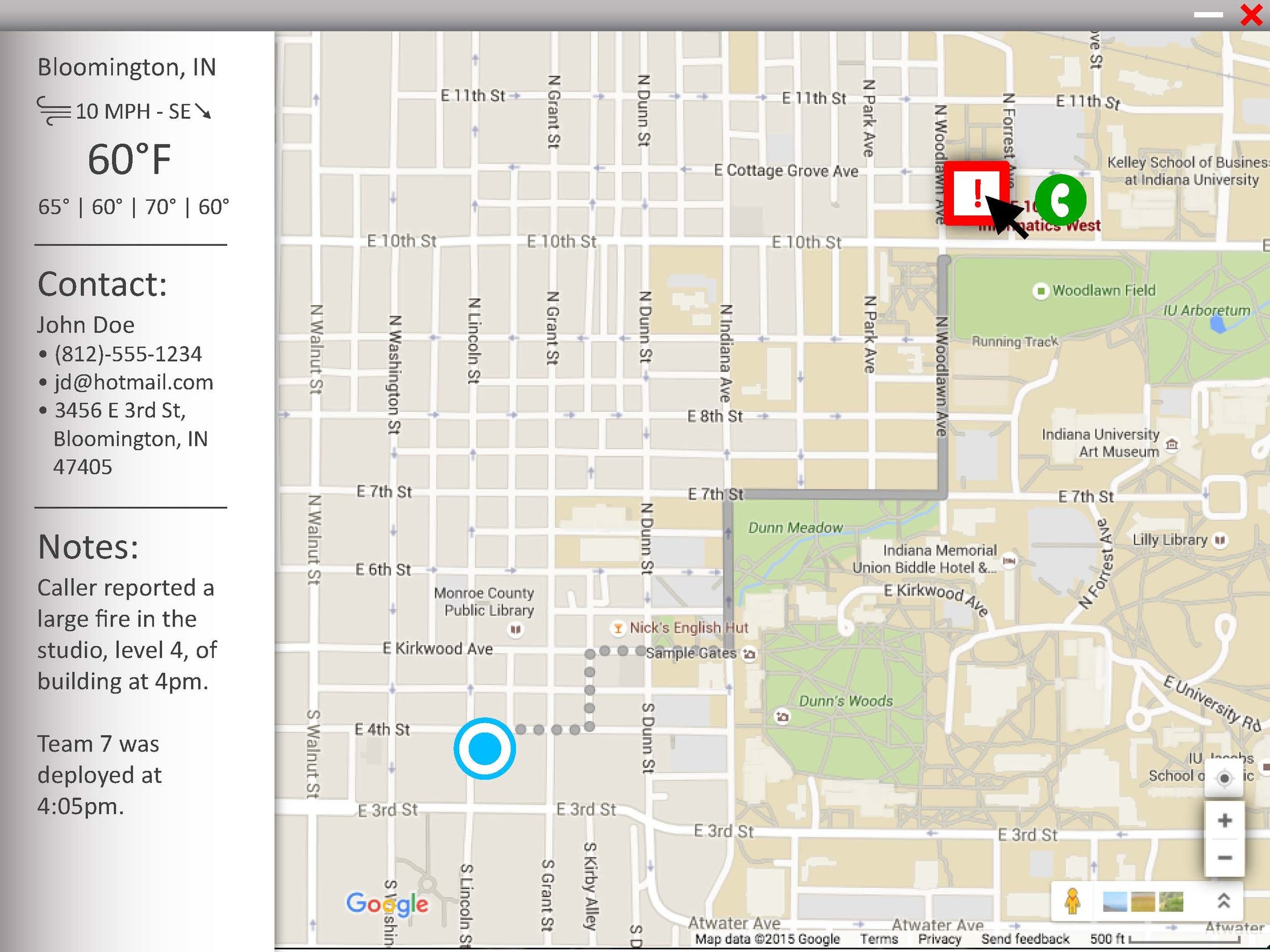 MORE IterationS & Wireframes
Our presentation critique lead to new insights on how our screens could be too cluttered and block the view of other icons. Another good point brought up was that we needed to decide what was relevant and important to a firefighter in that moment rather than throwing in a bunch of extras. Lastly, our core was to give information at a glance, but our system still required multiple clicks for valid content. We made a dozen iterations that lead to our final product. To the right are my wireframes for the software.
Team: Hannah Jones, Tevyn Bell, Stephy Matthew and Nava Teja Tummalapalli
Mentor: Mochen Liu